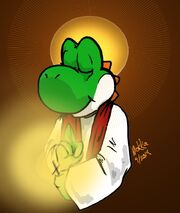 "And Yoshi said thusly: Be not afraid, for I am your saviour, as I am the incorruptible. And Mario saw that it was true." - Bible of Yoshi
Yoshi Jesus is the incorruptible in a corrupt world. He is the touchstone for normality.
During a stream in which DC used a corruptor on various SNES games, they were playing Super Mario World. In a few corruptions, everything was graphically corrupted, except for Yoshi. Because of this, DC decided that Yoshi was Jesus.